What criteria do we use to consider ourselves to be normal body weight?
American standards of healthy weight has changed dramatically in the past 100 years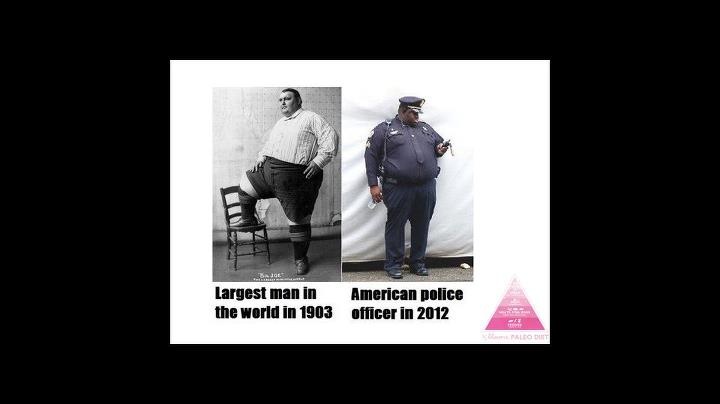 This is in no way, shape or form a poke at obese police officers.  This is to demonstrate how our perspective of obesity has changed so dramatically of what health really is all about.  I teach health as a profession and look the part all year long.  If your job is to chase bad guys, and you run the risk of a cardiovascular incident, then I would think it makes sense to take care of your body since it's the only one you get this time around.  How effective can you actually be at your job (in any profession) if you are not healthy?  Do you think you can think more clearly or less if you are sickly and don't move at all during your day? Aristotle used to make his disciples exercise before sitting and listening to him lecture.  He realized there was a direct connection to mind and body.  All the forward thinking companies in the world allow for long lunch breaks, exercise time, and even nap times.  It's been proven that people work better and more productive under these conditions than with how they are now (little to no lunch, really long hours with limited breaks and under high stress).  I personally block off 2 hour lunch breaks to unwind from my morning sessions so that I'm fresh again for my afternoon sessions.  If I didn't' take that time, my clients would notice my lower energy levels and they would not have "all of me" there for their paid session.  I look at that as the equivalent to the doctor who doesn't even look at you when they spend 1-2 minutes diagnosing you with some ailment.  Since I don't like to guess with peoples bodies, I take my long lunches and give my all to every single client who steps through my doors. 
Your best personal training professionals in Chatham, Livingston, Madison, and Summit, Short Hills, Millburn, Springfield, New Providence, Florham Park, Woodland Park, Mountainside, Berkeley Heights, Convent Station, Maplewood, and various parts of Union, Morris and Essex County, NJ (New Jersey). We have personal trainers that suit every need.  Now offering Fitness WOD (Workout Of the Day) Classes taught by a certified CrossFit instructor.