Still doing cardio and expecting to lose weight?
There is a reason this t-shirt logo is so popular in the strength training world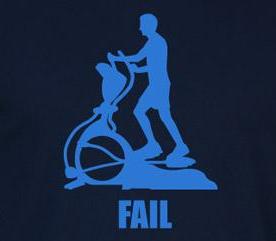 The main reason this is considered a failure is due to the cortisol overdose people keep putting themselves through on cardio machines. Cardiovascular work is so excessive in most peoples programs because the joke of American Heart Association says so.  No offense, but their track record is not so great for giving sound health advice.  Cortisol is a stress hormone that normally is in balance with our growth hormone, but in exercise sessions lasting longer than 30 minutes, the cortisol ratio becomes higher than that of your growth hormone which causes sympathetic stress (in the end causes weight gain).  Simply placing your body into a fight or flight mode, it will always try to slow down and store energy if you are chronically training in this high cortisol state.  Think of it as going into battle.  You want to bring all your resources with you and make them last.  That's exactly what happens in this state.  If your body is free of stress, it doesn't try to "hold on to it's resources" (fat).  Your body doesn't need to go into a high heart rate for 45 minutes to "burn fat".  Your body is always burning fat.  Fat is a preferred source of energy unless you are eating a high sugar/wheat/dairy diet.  We call it the "SAD Diet"  (Standard American Diet). This type of diet lowers the insulin response/sensitivity to blood sugar.
What we recommend is to use exercise that burns sugar because you recover with a higher fat metabolism as opposed to trying to be in a fat burn mode which uses sugar as a recovery fuel after your exercise has finished.  I know this sounds like the opposite to everything you've read in Shape magazine and Oprah.  This is the opposite, because it actually works.  How is the cardio program you're on working for you? How much longer are you going to keep having faith in it to work?  When you finally realize it's not working for your goals, give us a call to start your real heath program.
Your best personal training professionals in Chatham, Livingston, Madison, and Summit, Short Hills, Millburn, Springfield, New Providence, Florham Park, Woodland Park, Mountainside, Berkeley Heights, Convent Station, Maplewood, and various parts of Union, Morris and Essex County, NJ (New Jersey). We have personal trainers that suit every need.  Now offering Total Body Core Conditioning Classes (Workout Of the Day).