Pain Management - Corrective Alignment and Assessment - Holistic Wellness Network Personal Training Summit, NJ
Got Pain?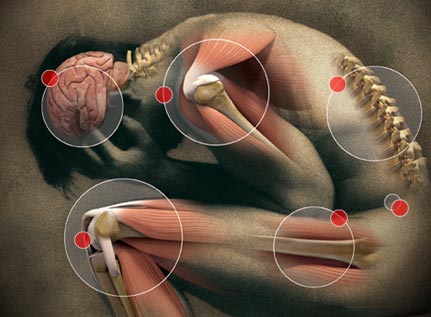 With pain comes dysfunction.  Dysfunction can be joint specific, imbalance of spine, poor gut health, sensitive skin, irrational thought and many more.  Whatever the dysfunction, we must approach the pain the same way we would for simple cases as extremely harsh ones.  There is a saying in my field, "If you are not assessing, you are guessing".  Every time I have a client come to us, I hear the guess the doctor gave them.  They usually come to me with some sort of "itis".  "itis" attached to any word just means inflammation.  If you have joint inflammation, you have arthritis...  Arthritis is no more of a disease than gastritis, or Monday-itis. In my profession, I like to actually assess with a full postural alignment, gate analysis, use two scales to measure leaning weight, core function test, analyze your footwear, and lots more. So, if you are tired of getting a diagnosis and nothing else, call us today and receive 20% off your first session by mentioning this blog post.  We take your pain seriously and only grow from referrals of very happy individuals who come to see us. 
Your best personal training professionals in Chatham, Madison, and Summit, Short Hills, Millburn, Springfield, New Providence, Florham Park, Woodland Park, Mountainside, Berkeley Heights, Convent Station, Morristown, Livingston, Maplewood, and various parts of Union, Morris and Essex County, NJ (New Jersey). We have personal trainers that suit every need.