Now you are not allowed to lift weights in some gyms
No Dead Lifting, or Else!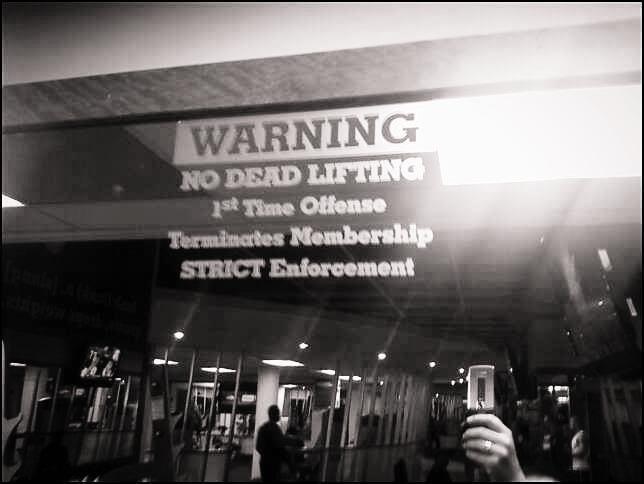 Just when I thought I'd seen everything in this health/wellness/fitness industry, a certain gym franchise has now made it against the rules to do dead lifts.  My question is, how are you expected to pick up dumbbells, barbells, kettlebells, or even a dropped towel on the floor without actually doing a dead lift?  Dead lifting is one of the most fundamental movements necessary to be human.  The rules in my gym are simple: shoes are optional (because it is best to train as close to barefoot as possible) and no TV's.  Everything else is not only allowed, but encouraged.  Hence why our clients see results.  They have no rules holding back their natural human movements.  We even have a pogo stick for anyone daring enough to try it. Imagine walking into one of these big box gyms and seeing someone on a pogo stick? You would think someone lost their mind and the gym insurance police would be running over to stop them and put them in fitness jail.  
Don't go to fitness jail! Come train a real training facility with corrective exercise specialists who actually took more than a weekend certification to get qualified to work with your human body.   
Know anyone in pain?  Send them our way for an evaluation!  Be sure to check out our Facebook business page as well.  We try to keep it up to date with the best information on diet, nutrition, movement and general information that can help you in your pursuit of health.
Your best personal training professionals in Chatham, Livingston, Madison, and Summit, Short Hills, Millburn, Springfield, New Providence, Florham Park, Woodland Park, Mountainside, Berkeley Heights, Convent Station, Maplewood, and various parts of Union, Morris and Essex County, NJ (New Jersey). We have personal trainers that suit every need.  Now offering Total Body Core Conditioning Class! How to work hard and not get hurt in the process.