"Next your going to tell me that cigarettes are bad for me...."
With the advent of the TV and Radio, we no longer need drug dealers roaming the streets to sell you drugs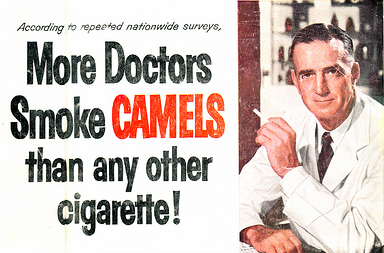 This is somewhat of a joke, but it has a serious background.  Not too long ago, cigarettes were being advertised as healthy and cool to do.  "Most doctors smoke Camel than any other brand". This same advertising is done everyday with all the drug commercials you see on TV, carcinogenic sweeteners like nutrisweet and splenda, high fructose corn syrup drinks which drives you straight to diabetes and other inflammatory diseases.  My point is that money and advertising drives the education of what is healthy and what is not.  Agents from the EPA (Environmental Protection Agency) have come out many times to warn against the use of fluoride and yet, all the dentists that are part of the ADA force it upon all of us.  I've even heard from friends who told me that their "doctor" prescribed their new born fluoride pills to take regularly. 
So, my advice is to turn off your TV, and radio and start paying attention to your body and not what advertisers want you to buy.  If you are thirsty, drink water. If you are tired, sleep! If you are hungry, eat! If you are unhappy, start doing things that are fun! These advertisers want us all to be sheep in a herd following their lead, but none of us have the same metabolic needs, nor do we respond in the same way to anything we put in our body. 
Your best personal training professionals in Chatham, Livingston, Madison, and Summit, Short Hills, Millburn, Springfield, New Providence, Florham Park, Woodland Park, Mountainside, Berkeley Heights, Convent Station, Maplewood, and various parts of Union, Morris and Essex County, NJ (New Jersey). We have personal trainers that suit every need.  Now offering Total Body Core Conditioning Classes (Workout Of the Day).