Goodbye to my Sweaty, Cold Hands
Solving The Cold Sweaty Hands Conundrum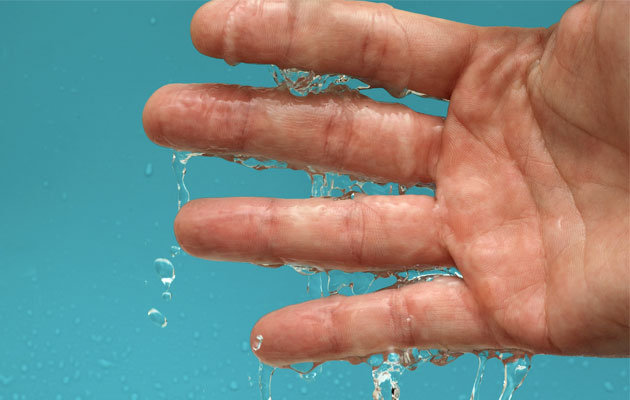 Ever since high school I have always suffered from the curse of always having hands that were either freezing cold or insanely sweaty. I was ashamed to shake anyone's hand because I knew that they would have something to say or think about it. I would always prepare myself with an explanation or play it off as if I had just finished washing my hands. The worst part about all of it was that I felt as if I had zero control over it. My hands would be freezing cold when it was hot, and dripping wet when it was cold. The problem always magnified whenever I was in any type of situation where I felt as if I was being judged, and no matter how cool and relaxed I thought I was the cold,sweaty hands simply got colder and sweatier.
I have managed to fix my problem!
First thing I needed to do was learn to properly manage my breath. Whenever I was in a position to be judged the first thing to change was my breath. Typically, it would become much more shallow and top heavy.
Next I needed to learn that I am creating my own fear of judgment and that I am empowering this idea every time I step into a similar situation where I am dependent upon other people's interpretation of me. Understanding that I am the one creating this for myself has allowed me to transform this fear into a meme that more greatly supports my dream. I no longer fear what others think of my actions, ideas, fears, words, or physical attributes and I have learned to accept that what ever I am right now is exactly who I need to be.
Once I learned what was at the root cause of this anxiety I began the process of healing the damage that this fear had caused to my physical body through food and hydration. The constant anxiety I felt throughout a typical day would completely drain my thyroid and adrenals of valuable nutrients and caused for a severe level of dehydration. Nutritionally, I began to drink roughly about 3 liters of water with a pinch of sea salt a day. To my diet, I added few more servings of high quality fats (organic butter, coconut oil, animals fats, olive oil), below ground vegetables (beets, yucca, squash, colored potatoes) and fruits. These additions helped provide my thyroid with the energy it needed to re-balancing itself and allowed my adrenals to take a break. The only other addition I made to my diet was the Royal Jelly by North American Herb and Spice, which has greatly accelerated my healing process.
The other key lifestyle factor for me was becoming more efficient at managing my blood sugar throughout the day and not allowing any drops in energy. Whenever my blood sugar dropped or if I go too long without eating the clammy hands would start, but with a well-balanced meal I can now quickly reverse it. Food and the shedding of a parasitic meme have provided me with a greater sense of confidence and self-respect than ever before in my life.
Food is Medicine and All of Your Thoughts Are Very Powerful, the Good and the Bad.
Holistic Wellness Network
Know anyone in pain?  Send them our way for an evaluation!  Be sure to check out our Facebook business page as well.  We try to keep it up to date with the best information on diet, nutrition, movement and general information that can help you in your pursuit of health.
Your best personal training professionals in Chatham, Livingston, Madison, and Summit, Short Hills, Millburn, Springfield, New Providence, Florham Park, Woodland Park, Mountainside, Berkeley Heights, Convent Station, Maplewood, and various parts of Union, Morris and Essex County, NJ (New Jersey). We have personal trainers that suit every need.  Now offering Total Body Core Conditioning Class! How to work hard and not get hurt in the process.
Holistic Wellness Network - Where personal training has a whole new meaning than your typical repetition counter that you are used to.