Tired of bad food at your market? Vote with your dollars!
Vote with your dollars!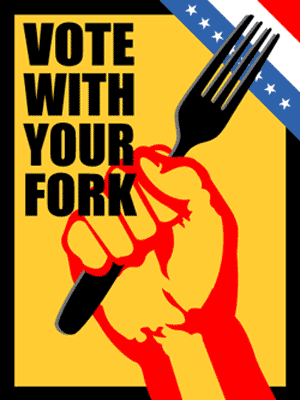 The reason there are so many "fast foods", chips, sweats, and terrible cooking oils like canola (Rapeseed oil) in your processed market food is because you keep buying it.  Would McDonalds continue to open up new places if they didn't have customers? I always say, "vote with your dollars".  That's our only true democratic structure in this country.  If you spend your money on healthy quality foods, the price of that food stays low and consistent.  The Costco's and big box stores are producing such cheap food that real organic and pasture raised foods seem overwhelming.  To that argument, I always say, "pay the farmer or pay the doctor".  Not investing in your body and health will always lead you towards disease.  Disease costs much more money than any true organic food, grass fed meats or wild fish.  The average heart surgery is between $50-100,000.  Which would you want to spend your money on?  This falls right in line with a famous quote "most people are dead by the age of 35, but their bodies keep walking around for another 30-40 years". Know anyone like this?  Most people that I see walking around Livingston, Summit, and other local areas of NJ are living this exact way and seem confused by their sudden illness or disease.  Disease is simply a wake up call to start paying attention to your body instead of that new car or house that you are working so hard to pay for to impress people you could care less about. 
Now Serving Chatham, Madison, Morristown, Summit, Short Hills, Millburn, Springfield, New Providence, Florham Park, Woodland Park, Mountainside, Berkeley Heights, Convent Station, Livingston, Maplewood, and various parts of Union, Morris and Essex County, NJ (New Jersey). We have personal trainers that suit every need.